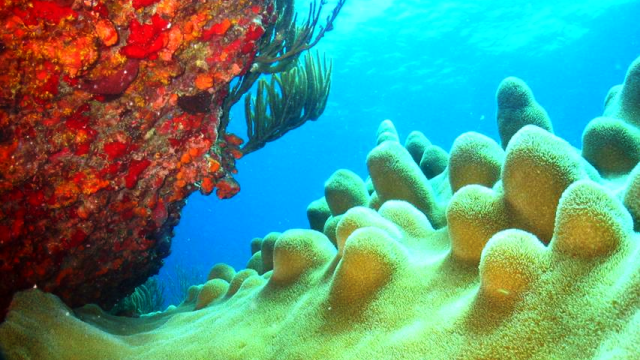 PHILIPSBURG, Sint Maarten — The St. Maarten Nature Foundation has over the last months been conducting an Economic Valuation Study on St. Maarten's coral reef ecosystems, the report of which has recently been made available. The report highlights the economic contribution of healthy coral to the economy of Sint Maarten, which was found to be USD$66,606,042. This study is an update of the 2010 study which found that coral reefs contribute $57,742,997 to the economy, and reflects the increase in coral reef associated values since the establishment of the Man of War Shoal Marine Protected Area.
Based on the research conducted by the Nature Foundation, with the assistance of the United Nation's Environment Program (UNEP) and the World Resources Institute (WRI), St. Maarten's Coral Reefs are estimated to be worth a total of USD$66,606,042 in contributions to the economy of St. Maarten. The results of this study shows that Coral Reefs are one of the island's most valuable resources and provide livelihoods through coral reef associated tourism as well as protection from large, damaging waves caused by hurricanes.
In order to complete the study various questionnaires were distributed which dealt specifically with fisheries, hotel accommodations, and reef oriented recreation. Data was also provided through independent research and stakeholder analysis. Coral reefs have direct and indirect influences on a wide range of economic factors, and the generation of data was crucial to the successful completion of this study. Data was inputted into a computer program created by the United Nations Environment Program (UNEP) and the World Resource Institute (WRI) and which was adjusted by the St. Maarten Nature Foundation to reflect St. Maarten's unique ecological and economic situation.
The marine environment of St Maarten includes more than 16km2 of globally threatened coral reef as well as seagrass and mangrove ecosystems. St Maarten's marine environment is a home and migratory stop over or breeding site for various endangered species and the beaches and waters attract approximately 2 million visitors a year, creating employment for 85% of the islands population both directly and indirectly. Tourism and the marine industry contribute significantly to the economy and both sectors depend on the health of St Maarten's marine resources.
The establishment of the Man of War Shoal Marine Park through the combination of economic and scientific research has been highlighted as one of the few examples of success in the Caribbean Region, according to a report from the World Resources Institute (WRI).