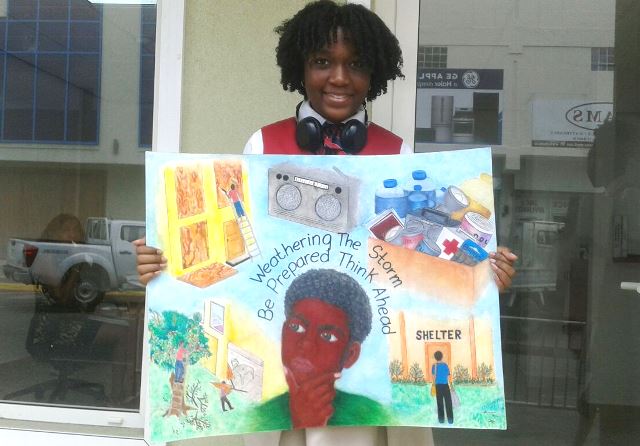 For the first time in over 15 years, St. Maarten has two finalists in both categories of the Florida Caribbean Cruise Association FCCA Children's Environmental Poster Competition.
Shannaz Horne, a 16-year-old student of the Charlotte Brookson Academy, won first prize in the Senior Division of the annually held FCCA poster competition, while Tefari Prevoo Francisco of the Sister Regina Primary School placed third in the Junior Division.
As the overall winner in her category, Shannaz will receive a cash scholarship of $3000, –
along with her school receiving the same.
Tefari will receive a cash scholarship of $1000, – with her school receiving the same.
The winners were selected from amongst candidates from 17 Caribbean nations. The Judges had the difficult task of determining this year's winners as there were many exceptionally creative and artistic pieces to choose from.  In fact, each poster entry received "exemplified Caribbean excellence" recognition for their depiction of ways in which to preserve the environment.
Florida Caribbean Cruise Association poster competition is organized annually by the St. Maarten Tourist Bureau as part of our Tourism awareness activities.
The theme this year was "Weathering the storm: disaster preparation for my destination."
The competition seeks to promote and stimulate environmental awareness among students. Its primary goal is to educate the younger generation about the importance of environmental protection. Another benefit of the event is that it shows the correlation between Tourism and the Environment.
Minister of Tourism, the Honorable Stuart Johnson, said  with the FCCA' s  annual Environmental Poster Competition, students and residents, in general, will gain an even greater appreciation of the economic and environmental benefits that come from ensuring that we keep St. Maarten clean. As we continue to build an environmentally and economically sustainable St. Maarten, it must be clear that everyone has a role to play. I would like to extend congratulations to the two winners of the competition and thank everyone who participated as it shows St. Maarten indeed has talent. I trust that Shannaz and Tefari's achievement encourages them to continue pursuing excellence and inspires others to follow their lead.
To show appreciation for their participation, the St. Maarten Tourist Bureau along with the FCCA is organizing a special luncheon on board a  cruise ship during which Shannaz and Tefari will be presented with their prizes.
The St. Maarten Tourist Bureau extends congratulations to the winners and to the art teachers of the Charlotte Brookson Academy and the Sister Regina School.