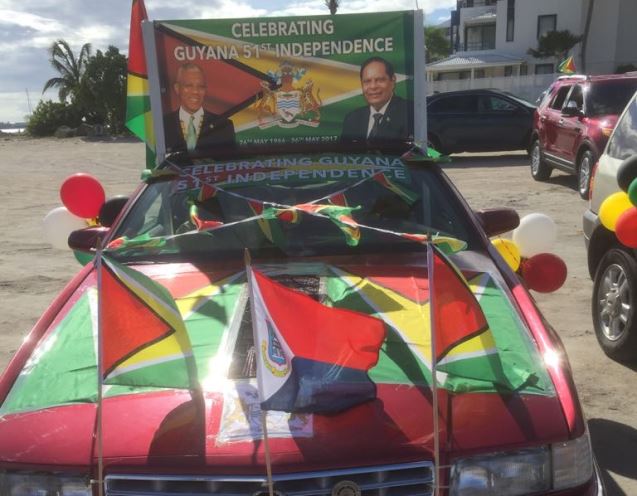 ~Outstanding Guyanese to be Honoured~
PHILIPSBURG, St. Maarten (May 17, 2018) – Guyanese across St. Maarten/St. Martin will on Saturday launch a week of celebrations to mark their country's 52nd independence anniversary, slated for May 26. Several notable Guyanese will be recognized in the process.
The celebrations will begin at the 158B Back Street of the St. Maarten Guyanese Association (SMGA) in Philipsburg with a cake sale from 11:00am on Saturday, May 19, 2018. All patrons can expect delicious Guyanese treats and they can use the opportunity to pick up a souvenir T-shirt for just $10.
On Sunday, there will be a church service at The Church of God of Prophesy in Ebenezer starting at 10:00am; while Wednesday night's general meeting will take the form of Culture Night starting at 7:30pm. Head of Planning Committee, Mrs. Vanessa Fraser is encouraging all to dress to represent one of the six ethnic groups of the country on Culture Night. Celebrants can also share and enjoy a potluck dinner party. That night, the festivities will be led by St. Maarten Academy teacher, Ms. Velda Blackett who promises to keep all engaged in fun trivia games testing their knowledge on any and everything Guyana.
SMGA is also encouraging all Guyanese to turn out on Saturday, May 26 for a grand Family Fun Day and Stage Show hosted by Black Diamond Entertainment on the Ring Road (close to Air Lekkerbek) from 11:00am. Patrons can expect games such as cricket, dominoes, and soccer while enjoying succulent Guyanese dishes. Persons or teams interested in competing in the cricket, dominoes, and soccer knock-out tournaments can register with Mrs. Dewanti Persaud by calling 556-6843 for a chance to win a $400 cash prize and trophy. There will also be authentic Guyanese games for the children.
In lieu of a flag raising ceremony to mark the anniversary of Guyana's independence from Great Britain, as is customary in Guyana, all Guyanese are encouraged to come out that Saturday evening at the same venue on the Ring Road to be a part of the release of balloons representing the flag colours of green, black, red, white and gold.
Thereafter, a grand stage show will commence featuring internationally-recognised Guyanese artistes Mahendra Ramkellowan known for his hit single 'Dem Ah Watch Meh', alongside Asha G out of New York City. The night's proceedings will also feature one of Guyana's top sound systems Stereo Sonic with DJ Akelo out of Guyana. Entertainment will also be provided by Gavin Cash and Hotep Shine from Jamaica and Black Diamond Sound with DJ Crazy Omar.
The following day, the festivities will close off with a motorcade, which will begin at the roundabout by the Causeway Bridge close to the border and end at the Ring Road (behind Air Lekkerbek) for a second day of fun and games. Prizes will be awarded for the best dressed cars. That afternoon, several outstanding Guyanese, including students who excelled at last year's CXC examinations, will be honoured, prior to the drawing of a raffle.
SMGA is encouraging all Guyanese or persons of Guyanese descent to get into the spirit of the celebrations by flying the Golden Arrowhead on their cars during this upcoming week. Persons who are interested in securing booths for the May 27 event on the Ring Road can contact SMGA President, Mr. Malcolm Mickle on 524-9587.
Guyana, the only English-speaking country on the continent of South America, gained its independence from Great Britain on May 26, 1966. Prior to Britain's colonization, the country changed hands many times, with the Dutch being the first of a series of European nations to settle on the land in 1616. Evidence of the close to 200 years of Dutch occupation can still be seen today in the names of many places, such as New Amsterdam, Uitvlugt, Stabroek Market, Kyk-Over-Al and Fort Zeelandia up the Essequibo River, and Zeeburg. Its capital city, Georgetown, owes much of the architecture, canals and kokers to Dutch ingenuity.
The colony of Demerara-Essequibo was created on 13 August 1814 when the British combined the two colonies into one. In 1815, the colonies of Essequibo and Demerara were formally ceded to Britain, and 16 years later, in 1831, Berbice, the last of what is known today as the three counties was merged into British Guiana, thereby ending Dutch rule.
British Guiana remained under British control until 1966. Four years later, on February 23, 1970, the country became a republic and was formally recognized as the Cooperative Republic of Guyana, having as its first Executive President, the Honorable Linden Forbes Sampson Burnham, who ruled until his death in August 1985.