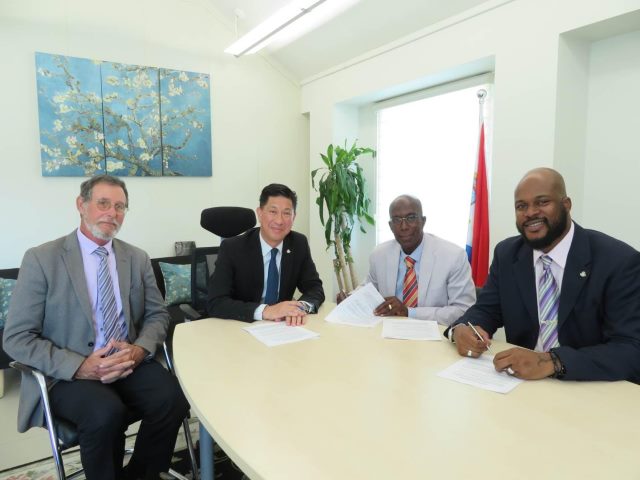 PHILIPSBURG, Sint Maarten — Minister of VSA, Emil Lee announced on Wednesday April 18th, that negotiations for the amendment of the contracts for the supply of public drinking water, produced by Seven Seas Water have been concluded and signed off in a positive and desirable savings of four (4) Million guilders annually for a period of three (3) years. As Minister of Public Health, Emil Lee is responsible for the public supply of drinking water. Negotiations took place together with the Ministry of VROMI who is responsible for the distribution of drinking water and the Ministry of Finance.
"Prior to hurricane Irma, the country was already in a situation where the water being produced was more than the actual consumption capacity. As a result, the generated loss in 2016 was 1.1. Million guilders. We took the time to examine the current contract with Seven Seas. It is a 'take or pays' contract, meaning that whether the country takes the water or not – by agreement, the country is obligated to pay for the contracted production of water. And that loss, in terms of water that is paid for but consumed, was projected to be about 4.6 Million guilders annually." – Emil Lee, Minister of Public Health
Based on an agreement that was signed in 2012 between Government and Seven Seas Water; as per 2016 the daily amount of water to be made available was raised from 15.500 m3 per day to 18.500 m3 per day. The amendments consist of Government reverting to the pre-2016 volumes of 15.500 m3 daily, in exchange for the extension of the agreement, with the possibility to extend for two (2) more years thereafter.
"That gives us some breathing room in terms of cash flow; it allows us to get the hotel plants back in operation and it allows us to finalize discussions and negotiations with the French side, with the Harbour and the cruise lines as possible clients to sell water to." – Emil Lee, Minister of Public Health
It is the desire of G.E.B.E to independently produce drinking water for the country; the contract with Seven Seas Water makes provisions that allows the possibility for the country to negotiate an early buy out of the contract. The negotiated amendments to the contract includes the expansion of the applicant criteria to the scholarship funds of the Desalination Resource Development Program (DRDP), which is part of the water contract with Seven Seas Water. There is currently 240.000 dollars in the scholarship fund; the fund allows students to specialize in water engineering.
"We have broadened the terms that allow a broader participation of who can access the scholarship funds with the understanding that what we are trying to do is we are trying to train individuals in water production on Sint Maarten, equipping the country to be able to take over the water production on its own in the future." – Emil Lee, Minister of Public Health