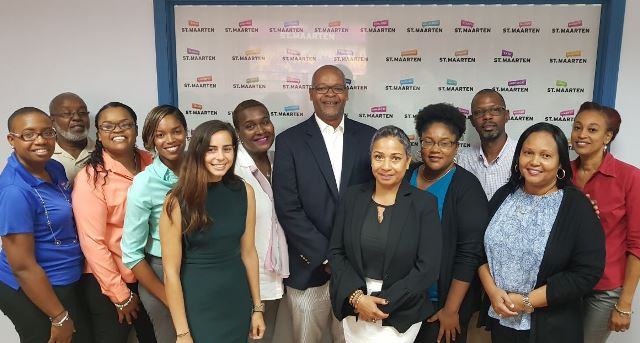 POND ISLAND – Acting Minister of Tourism, Economic Affairs, Transportation and Telecommunications (Ministry TEATT) Cornelius de Weever, says the appointment of May-Ling Chun as Interim Director of the St. Maarten Tourist Bureau (STB), will benefit the national tourism recovery of the country.
May-Ling is not a newcomer to STB, as she had a stint as director of St. Maarten Tourism Bureau from 2011-2012.
May-Ling holds a Master's Degree in Business Administration (MBA) from the John F. Welch School of Business, Sacred Heart University, Fairfield, CT, and a Bachelor's Degree in Hotel/Restaurant Management and a Minor in Business from New York Institute of Technology, Old Westbury, New York, and a HAVO High school diploma from Peter Stuyvesant College.
"I would like to congratulate May-Ling Chun on her appointment as she is well qualified for the job.  At this stage of our country's post-Irma development, we need to ensure the tourism and travel industry that we have the best and brightest minds at the forefront in order to move our country forward during these very challenging times.
"May-Ling Chun will be working with seasoned staff at STB in continuing to get the message out that we are open for business. To-date STB staff have been doing a wonderful job, and they are well aware what is at stake and what needs to be done.
"We have to keep our industry partners updated on destination developments ensuring more flights return as more of our accommodations reopen.
"In the end, our country will have a better tourism product.  We are on the right track and moving in the right direction.  It will not be easy as we move into the slow season.  It will be challenging, but we all have to contribute to promoting the destination as we bounce back," Acting Minister of Tourism Affairs Cornelius de Weever said on Monday.
May-Ling was Manager of the country's newest accommodation – Commodore Suites, located in the heart of Simpson Bay, and prior to that, May-Ling was involved in a number of projects related to marketing consulting, sales, product development, public relations, human resources, training, product development, business development, extensive market research.  Chun was also Oyster Bay Beach Resort's Director of Operations from 1999 – 2002.
May-Ling has served as second vice president of the executive Board of St. Maarten Hospitality and Trade Association (SHTA) from 2009 – 2011 and as a board member from 1999 – 2009.
May-Ling is also a board member on the Charlotte Brookson Academy of the Performance Arts; co-founder of the St. Maarten/St. Martin Annual Regional Tradeshow (SMART) and of the annual SHTA Crystal Pineapple Awards.