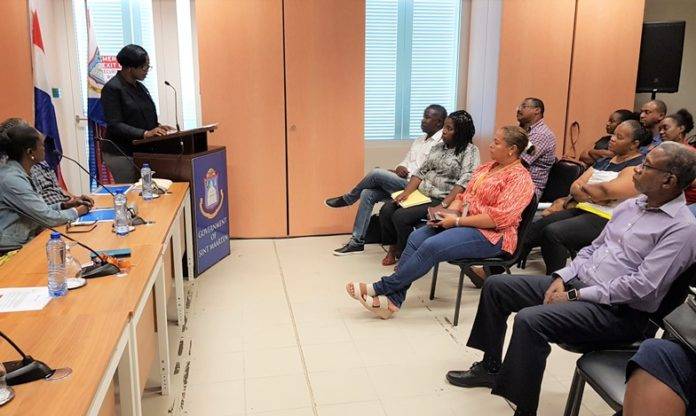 PHILIPSBURG – On Thursday afternoon March 29, Prime Minister Leona Romeo-Marlin hosted a meeting of the District Community Councils at the Government Administration Building in preparation for the upcoming Hurricane Season 2018. During the meeting, members of the Community Councils representing a cross section of the Districts on Sint Maarten took the opportunity to express their ideas and thoughts on how government can improve its response leading up to the Hurricane season and in general, for any disaster that may hit Sint Maarten in the future.
Paul Martens, Section Head Disaster Management at the Fire Department, made a presentation on the structure and functioning of the Emergency Operation Center EOC. Additionally, Aida Holaman Head Community Development, Family & Humanitarian Affairs and Mark Schloss Social Development of the Ministry VSA made a joint presentation on the role of Emergency Support Function #7, who has the responsibility for Shelter Management, Registration of person in need, Distribution of primary necessities for life and Mass burials.
At the meeting Prime Minister Leona Romeo-Marlin delivered the following address to the representatives of the District Community Councils; "I take this opportunity firstly, to thank you on behalf of the Government & People of Sint Maarten for the tireless work and effort you exerted post Hurricane Irma, your contributions have not gone, unnoticed.
On a personal note as a resident of Sucker Garden, following the passing of Hurricane Irma upon securing my immediate family and property, my instincts kicked in and I joined the team at Ministry VSA and volunteered to distribute relief aid to persons in need within the Sucker Garden district.
It is with that same spirit of uplifting and assisting our fellow citizens I introduce you to Government new efforts to reach out to its citizens through a community-based approach as together we prepare for Hurricane Season 2018. As Prime Minister, I am ultimately responsible for the management of all disasters based on the structure of the EOC.
In preparatory meetings leading up to today I have emphasized that Government must improve its response to any disaster specifically hurricanes in this case.  The objective of this meeting therefore is to inform you and engage you as willing stakeholders to be a part of the emergency response going forward.
In order for this to be effective I am asking you as District Community Councils to make sure that you are fully organized, established and prepared so that when Government calls on you to be activated following a disaster there will be no obstacles. Thus, I am calling on you to organize your boards reignite your membership and start holding regular meetings in the community.
My vision for a properly function community Council as it relates to Disaster Management involves, coordinating and participating in clean up campaigns, organizing community volunteers to assist in cleanup efforts, protection of the vulnerable persons in the community for example children and the elderly and distribution of relief goods via Government or International Donors.
These are just a few of the tasks that Government envisions for the Community Councils to assist with following a disaster.
I also take this opportunity to announce that in May, you will be called upon once again, to participate in ta Disaster Coordinators Conference where we will bring minds together form all sectors in our community to shape the Hurricane Season Operation Plan 2018; your contributions will be gladly appreciated. In conclusion, commend you for the positive step of being here today and I look forward to your participation in our efforts as we prepare for Hurricane season 2018."