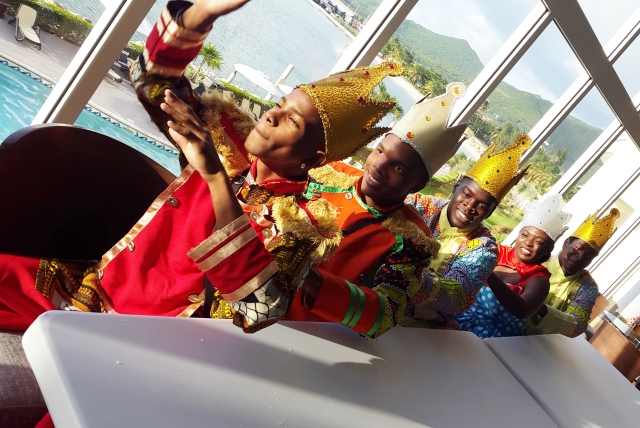 SIMPSON BAY­ Generation New Status drum band departed Thursday, September 29, for a much anticipated trip to Orlando, Florida, made possible in large part by Royal Resorts Caribbean (RRC) and Interval International (II).
In the highlight of the year, band leader Urmain "Youmay" Dormoy and his young music students are set to perform at locations including Sea World and Old Town.
RRC's Simpson Bay Resort & Marina and II teamed up to offer resort accommodations for their 2-week stay in Orlando – the largest expense – to a group of nearly 70 who are traveling with the band: about 35 young musicians, as well as volunteers, parents and chaperones.
This will be Generation New Status' second trip to Orlando, albeit with a different set of students. The first one in 2012 was deemed a grand success. Besides entertainment and fun, the trip is meant to be educational, to expand the musicians' horizons, and to let them experience performing for larger crowds.
The children will also perform at Westside Community Center, and hope to do the same at the resort or at public parks.
Upon hearing about the planned trip, which was in need of sponsorship, Richard and Julieta Sutton of RRC approached II to help make it a reality.
"We commend Dormoy for his history of community involvement and dedication to improving children's lives through music," said Richard, who credits his wife Julieta for being a driving force behind organizing the sponsorship.
The Suttons, along with General Manager Marcel Javois and Marketing Director Theolinda Richardson, showered the drum band representatives with appreciation for their work and words of encouragement at the donation presentation on Tuesday, September 27, calling it a "worthwhile initiative."
Five students kicked off the small ceremony with a high-energy performance, using their hands, the table, and each other's backs in place of instruments.
Neil Kolton of Miami-based II stated via press release that Interval was "delighted to support" this venture, adding that the company "has championed the charitable endeavors of its developer clients for many years."
Dormoy not only thanked them for the current donation, but said also that the weekly Tuesday evening Royal Bash performance at Simpson Bay Resort & Marina has been a welcome opportunity for stable work, a "sigh of relief" for the organization which works hard to provide for itself, but needs better funding for clothing and instruments.
The Royal Bash, which began in April 2016, is a hit amongst the guests and is seen both as a means of providing unique local entertainment, as well as an opportunity to support a laudable cultural youth organization