~Just want to react to the advisory from Dcomm from Public Works Minister~
Please see on top many roof tops in Philipsburg as well as several other dwellings mainly in Town area and see what kind of mess and disaster we have on several of them.
We have from Parliament building roof top some of the stores, which have a whole lot of dangerous materials still lying on the top of their buildings not secured, dangerous waiting to drop on or fly off the roof and kill somebody. That to me not only needs the issuance of a warning, but a heavy fine and needs Public Works' attention.
Look from the second floor from Nagico building. This is an even worse situation from on top of WIB bank, which is another disaster. What happened to on the spot checking and control?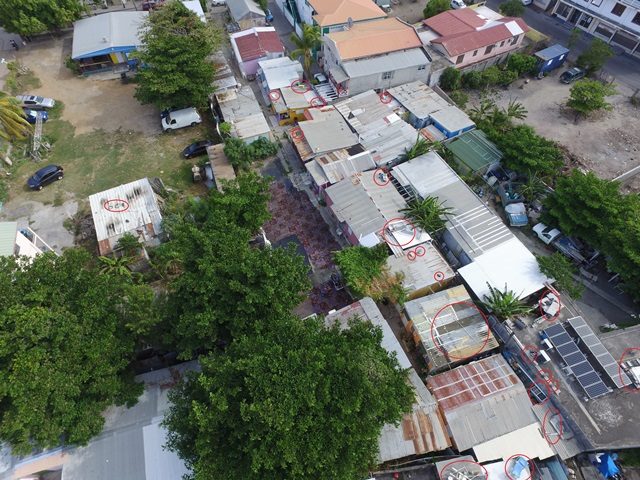 God forbid this does happen, but walking under some of those buildings can be very dangerous, seeing the loose blocks, zinc and wood just piled up on top them, waiting for disaster to happen, like something falling on someone's head and fatally injuring them. Just ask the person who posted on Facebook some months what they saw at one time. Complete hazardous and dangerous situation with all the blocks on roof tops holding down zinc roof.
Let's get that clean up as well Mr. Minister. The danger ain't only down below, but up on the roof tops as well at several of these buildings. Have an inspection done and do something about it as well. Make safety also a must, bring on some heavy controls.
It's not just issuing a warning telling contractors, business owners and homeowners what to do now that we are in hurricane season, but also inspections should be carried out on a number of these buildings. The outside and inside might be looking good, but go from the roof and see the disaster. Sometimes I wonder if we have an Inspection Department, and if the people in the right place don't see these things.
The bad part is all these roof top construction materials have been lying there for months and even years and nothing. Do your part I would say, people who have dangerous things lying around should be fined heavily so they respect other people's life and property.
I know you can't know everything, but this is certainly something to look into my honorable Minister.
Elton Richardson