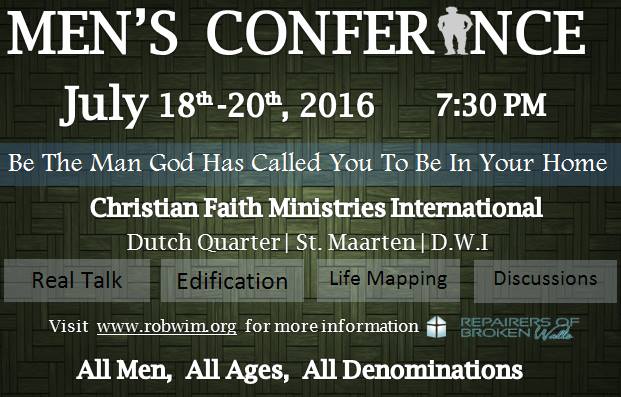 ~Free conference in Dutch Quarter~
PHILIPSBURG – A challenge has been issued to men of all ages to attend and participate in the first annual Men's Conference organized by Repairers of Broken Walls International Ministries Foundation.
With the theme, "Be the Man that God Has Called You to Be in Your Home," the conference will be held from Monday, July 18, to Wednesday, July 20, at Christian Faith Ministries in Dutch Quarter at 7:30pm nightly.
According to Rikson Martina, one of the pastors at Repairers of Broken Walls Ministries, "the conference aims to uplift, educate and encourage all men in their role as priest, prophet and king. This will be a unique conference that will provide opportunities for attendees to participate in spirited discussions and interact with various speakers. Every man and boy should attend this free activity. It will change your life. Bring your buddies, sports teams and domino crew for real talk with men."
Pastor Martina emphasized that the Conference is free of charge since the foundation has, as part of its mandate, a strong focus on community development and empowerment.
The Repairers of Broken Walls Ministries Foundation was founded by Apostle Napolina and Pastor Kurt Richardson. It is currently under the leadership of Prophetess Brenda Abbott.