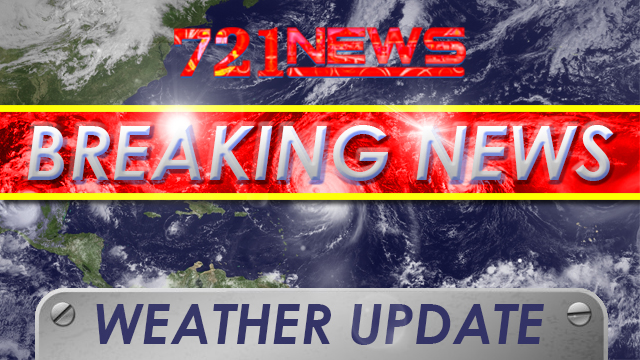 Local Weather…
Partly Cloudy, Slightly Breezy yet HOT, and Slightly Hazy with chance of a brief shower. 
Tropical Storm Grace = weakening…
As of 5am, the center of Tropical Storm Grace is…
 * Located: 14.1 N 41.0 W  (+/- 1290 miles ESE of St. Maarten)
 * Max. winds: 40mph
 * Moving: W at 20mph

Tropical Storm Grace is forecast to weaken to a tropical depression later today and may possibly weaken further into a tropical wave by Wednesday night — prior to reaching our local region (Friday).
We will continue to monitor its progress.

(Click images to zoom in)
Reminder…
Remember to have & keep your Hurricane Kit ready throughout this hurricane season.
Additionally, stay tuned to our Facebook fan page for periodic Hurricane Information.
Note:
SSS-Islands: St. Maarten = 18.0°N, 63.1°W | Saba = 17.6°N, 63.2°W | St. Eustatius = 17.5°N, 63.0°W
Neighboring Islands: Anguilla = 18.2°N, 63.1°W | St. Barths = 17.9°N, 62.8°W | Antigua = 17.1°N, 61.9°W | Barbuda = 17.6°N, 61.8°W | Montserrat = 16.8°N, 62.2°W | St. Kitts = 17.2°N, 62.6°W | St. Croix = 17.7°N, 64.7°W | St. Thomas = 18.3°N, 64.9°W | Tortola = 18.4°N, 64.6°W
Remaining names for this year's Atlantic Hurricane Season are: Grace, Henri, Ida, Joaquin, Kate, Larry, Mindy, Nicholas, Odette, Peter, Rose, Sam, Teresa, Victor, Wanda.
Future Tropical updates will be sent out periodically (as needed).