GUYANA — Preliminary results released by the Guyana Elections Commission (GECOM) a few minutes ago has revealed that the coalition, A Partnership for National Unity and Alliance for Change (APNU+AFC) has scored a close victory in the General and Regional Elections.
The coalition secured 206,817 in the General Elections narrowly edging out the People's Progressive Party Civic, effectively ending their 23 year rule.
The PPP/C garnered 201,457 votes.
Figures show that the coalition copped 201,324 in the Regional elections with PPP/C following with 198,148 votes.
The Guyana Elections Commission will be making a final declaration late today.
####
GEORGETOWN—Guyana's multiracial opposition coalition has won the national election.
The A Partnership for National Unity and Alliance For Change (APNU/AFC) coalition, led by former army brigadier and publisher David Granger, won 206,817 votes, versus 201,457 for President Donald Ramotar's PPP party, the election commission said after all votes were counted.
The PPP has called for a recount, but the Election Board said in a press conference its first tally of votes was unlikely to change on review.
The coalition's victory is being seen as the signal of a new era in the ethnically-divided South American nation. It breaks the ruling Indo-Guyanese party's 23 year-old grip on power.
Granger's coalition has vowed to combat corruption, increase public sector salaries and lower individual taxes.
The coalition is expected to have a three- or four-seat majority in the 65-member Parliament of the South American country. It previously had a one-seat majority and often clashed with Ramotar, who forced early elections after suspending and dissolving Parliament to avoid a no-confidence vote.
Granger could be sworn in late Thursday or early Friday, becoming Guyana's eighth government leader.
Meanwhile, Ramotar on  Thursday indicated that he was not prepared to concede defeat in the 2015 elections as he still has concerns about elections process, News Source Guyana reported.
Ramotar reportedly dismissed the declarations by the various observer missions that the elections were free, fair and credible.
International missions in Guyana have dismissed the PPP's view that the elections were fraudulent.
Sources: Reuters, AP, News Source Guyana
PRELIMINARY RESULTS FOR GENERAL ELECTIONS: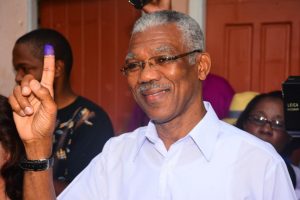 PRELIMINARY RESULTS FOR REGIONAL ELECTIONS: