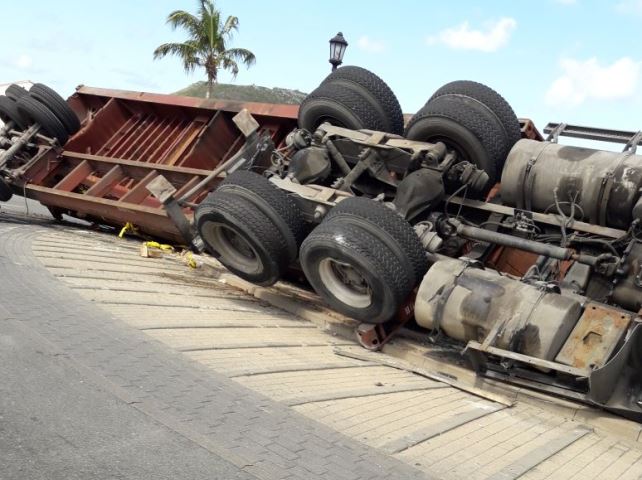 Trailer truck capsizes at the Kruythoff roundabout
On Friday September 7th at approximately 9:30 a.m. a trailer truck carrying heavy duty metal pipes lost control trying to go around the Kruythoff roundabout on the A.J.C. Brouwers road in Cole bay. The truck was heading around the roundabout in the direction of the French side and for reasons still unknown capsized causing the driver to be pinned inside of the vehicle. The driver was rescued from the trailer truck with minor injuries.
Traffic was diverted into other directions in order to clear the road of the heavy duty metal as well as move the trailer truck. All motorists were asked to proceed with caution and follow the commands of the officers in the area.  Motorists were asked to divert all travels heading in the Cole bay, Simpson or French side area to the Old Cake House Hill road until the roads were cleared and safe to frequent once again.
A heavy crane and several other trailers were called in to assist in removing the capsized trailer along with its load from the roundabout. At approximately 02.15 p.m. the work to clear the road had ended and traffic could once again flow freely.
First few minutes after the accident happen. Here you can see how the by standers was taking the driver out of the truck 721news Social Media Network was covering it !!!!
Truck driver narrowly escapes escaped death at Cole Bay Roundabout 
COLE BAY – When the driver of a forty-foot low-bed truck transporting steel pipes started his morning he surely did not think he would have had a brush with death and luckily elude his grasp.
The truck he was driving flipped over at the roundabout at the bottom of Cole Bay hill. This is yet another accident at the same spot involving a huge truck and another incident that has caused severe damage to public infrastructure.
The scene of the accident and the state of the truck cab are scary and shows how very blessed the driver is. 
It is thankfully the truck driver is safe and no one was injured. But, the question of taxpayers is – will government lodge a claim against the truck insurance to repair the damage or will the fixing be out of the pocket of taxpayers yet again.