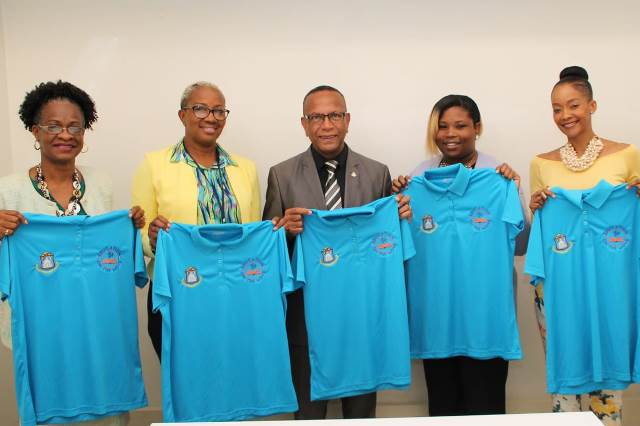 Great Bay – Member of Parliament Silveria Jacobs on Thursday met with the Honorable Minister of Education, Culture, Youth and Sport Mr. Wycliffe Smith, Acting SG, Shermina Powell-Richardson, Acting Head Division Education Innovations (DEI) Mrs. Janelle Presentacion-James and Project Manager EOM, Angelique Roumou, to hand over long awaited polos emblazoned with the EOM logo to commemorate Education on the Move that had been ordered for the Ministry's staff and all teachers during her recent tenure as Minister ECYS.
The initiative is one that remains on the agenda of the DEI and MP Jacobs was reassured that plans were still ongoing in bringing awareness to the general public about the importance of education as well as promoting participation across community. Minister Smith gladly accepted the EOM Polos on behalf of the Ministry of Education, Culture, Youth and Sport and the Public Schools. Each school board received polo shirts in the color of their choosing for their staff during the past week, and many expressed sincere gratitude as it had been long awaited. The shirts had been a part of the Teacher Appreciation token for 2017 and are just in time for October 2018 when we celebrate teachers.
An EOM Rally had been planned which should have taken place last year, but did not come to fruition despite the hard work of project managers and workers, teachers, staff, students of the various schools and sponsors to ensure that each school had its own banner. MP Jacobs looks forward to all those joining together with educators and the Ministry to support education in any way possible, as she truly believes in the late Nelson Mandela's quote: "Education is the most powerful weapon with which we can change the world."
The resilience shown by our teachers and students in saving the 2017/2018 school year and booking improved results must be celebrated, MP Jacobs stated.
Volunteerism makes a huge difference in small island developing states such as ours. Given the extra challenges now being faced throughout our society, MP Jacobs hopes that those with the time, patience and heart would see it fit to volunteer at a school, after school program, sport or art program/organization. This will help our youth on St. Martin to achieve their potential and allow them to see and experience kindness and compassion as two values being practiced all around them.
The business community has also supported this effort and MP Jacobs also encourages them to continue to step up in a variety of ways: whether by adopting a school or class; donating materials periodically; or giving employees an extra hour off to volunteer at least once per week at one of the above-mentioned youth-oriented activities. Business owners should also pledge to allow employees (parents) the time off to attend to school business, follow workshops etc. when called regarding their children. It has been proven that active parents with a close relationship with their child's school almost guarantees success and a positive experience for the child.
The Education on the Move Campaign has lofty goals, but together as a community caring for our youth, MP Jacobs firmly believes it can be successful. MP Jacobs expressed gratitude to Minister Smith and the staff for continuity regarding this project and looks forward to seeing the EOM shirts, posters and banners in schools, business and government offices all over the island, as well as video, text and photo testimonials on social media highlighting positive strides being made daily in Education.
MP Jacobs would like to thank Educators Shareen Lake and Dorothy Richardson for being the brain behind this initiative and for selling that vision which continues to have life and will grow in the minds and hearts of all who hold our youth and maximum opportunity in education dear.