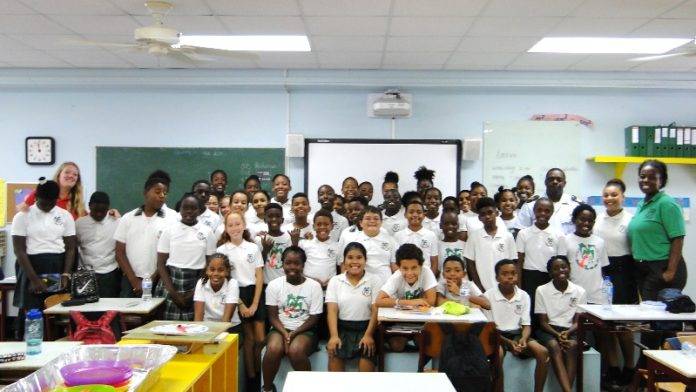 Officer Courtar visits Sister Magda
On Thursday May 31st 2018 sergeant of the KPSM traffic department officer Rexcarlos Courtar visited with the 5th grade students of the Sister Magda School.
The purpose of his visit was to help the students prepare for their upcoming traffic exam. Officer Courtar not only educated the students about the traffic rules and regulations but also gave the 5th graders a chance to clarify all questions they had regarding these rules and regulations.
The class consisted of 49 energetic group 7a and 7b students who were all eager to ask and answer traffic questions that would help them better prepare for their traffic exam, which is scheduled to take place on the 5th June 2018. By the end of the session the children had a better understanding of the traffic rules regarding who has the right of way at the various intersections that were illustrated by officer Courtars drawings on the board.
The students of the 5th grade class thanks officer Courtar for the help and he wished them much success on their on coming exams.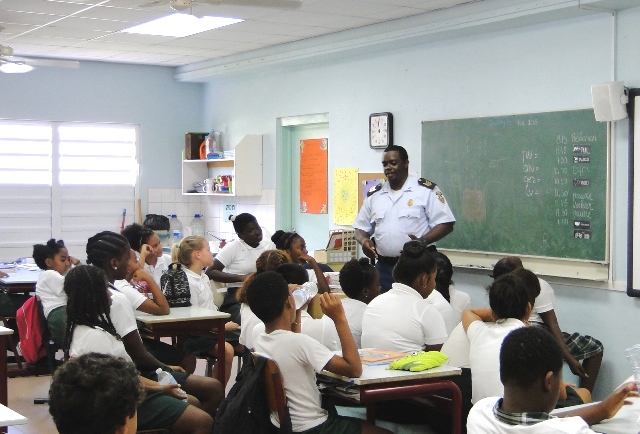 ---
Traffic Controls
On Thursday may 31st 2018 a traffic control was held by members of the KPSM. The control took place at the Lookout Point of Cole Bay hill (Harold Jack) from 09.00 a.m. to 12.00 p.m. The focus of the control was to control vehicles with dark tinted windows and drivers who had unpaid fines.
A total of 80 vehicles were checked.
50 vehicles with tinted windows were controlled and the tint removed.
1 vehicle was towed.
5 drivers had to pay their outstanding fine.
19 fines were issued for numerous traffic violations.
These traffic controls will continue indefinitely and the Police Department is taking this opportunity to inform all drivers and vehicle owners to have their vehicle inspected and their road-tax paid no later than July 1st 2018. All divers and vehicle owners should take keen notice of this information to avoid any unnecessary delays or inconveniences.
---
Cycling events Bike-Walk-a-thon
On Saturday June 2nd a Bike/Walk-a-thon will beheld starting at 06.00 a.m. at the Asha Stevens Hillside Christian School and end at 10.00 a.m. at the same location.
The route of the Bike/Walk-a-thon is as follows: Welgelegen road- A.J.C. Brouwers road-Bush road- Prins Bernard bridge- Front Street- Hotel lane- Short Lane-Cornelius M. Vlaun Street- Walter J.A. Nisbet road- A. Th. Illidge road- zagersgut road- Bush road- A.J.C. Brouwers road- Welgelegen road- Asha Stevens Campus.
---
Triathlon
On Sunday June 3rd a triathlon will be held on the public streets on the Dutch Side of the island starting at 07.00 a.m. and ending at 11.30 a.m.
The race will start with a swimming race in Great bay followed by a cycling event which will start on the Boardwalk- Front Street- D.C. Peterson Steeg- Back Street- Gevangenis Steeg- Cannegieter Street- D.A. Peterson street- Walter J.A. Nisbet road- Freedom Fighter round about- Walter J.A. Nisbet road-Prins Bernard Bridge- Bush road- Churchill round about- A.J.C. Brouwers road- Alexis Arnell road- Godfried Richardson Street- Link One- Little Bay road- Kerkhof Steeg- Wilhelmina steeg- Front Street- Sint Rose Arcade. The race will end after running the full length of the Board walk four times.
All drivers making use of these streets during the race are asked to pay good attention to the participants of the race and to give all necessary cooperation to make this event a safe one.