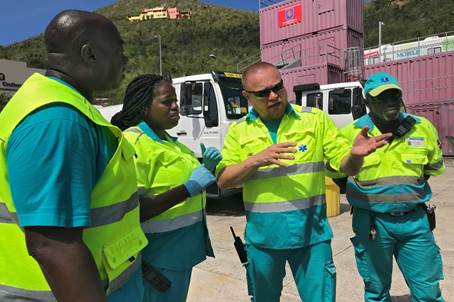 PHILIPSBURG, Sint Maarten — The Ambulance Department personnel of Ministry Public Health, Social Development & Labor recently successfully completed a weeklong training in Advance Life Support (ALS). The training allowed for both the Ambulance and Fire departments to come together with the aim of exchanging knowledge and improving cooperation techniques. This towards improving collaborative response in emergent and crisis situations.
The training sessions were directed and guided on the primary process level by Ruud Verhalle (Nurse Practitioner Emergency Care from RAV) and Stefan Beuker (Ambulance Department Groningen).
Ambulance Department Head drs. Cylred Richardson says that these specific type of training and more will continue twice annually as part of an extended 3 years cooperation agreement following hurricane Irma between the Regional Ambulance Organization (RAV) of Brabant Middle-West-North Holland.
The training week ended with a joint scaled up (technical assistance) scenario in the parking lot of the Fire & Ambulance Department in which command and control was demonstrated together with the on-duty medical officer (Ovd-G) and on-duty fire officer (Ovd-B). This scenario shows the cooperation between the various disciplines with the end motto One Team, One Mission is Good Care.
Minister Emil Lee: I would like to congratulate management and the ambulance teams on the successful completion of the training. The effective collaboration of both units is crucial to ensuring the safety and care of those in need and reliant of these services in emergency situations. I know that both teams are truly dedicated to their work and I commend them for continuously going above and beyond to maintain their skills and knowledge but to also share and improve with others. I am very proud of the dedication to consistently improve on the quality of service.