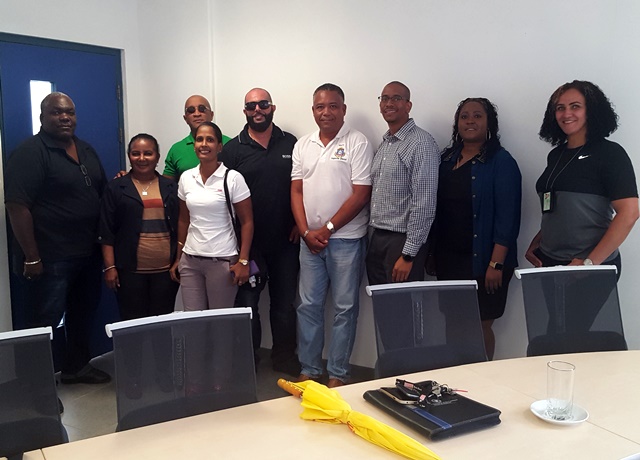 GREAT BAY, Sint Maarten (DCOMM) – The Inspectorate of Tourism, Economic Affairs, Traffic and Telecommunication (hereafter TEATT), Section Economic Control recently hosted a meeting with several bar and restaurant owners situated along the A.Th. Illidge Road at their offices on Yrausquin Boulevard with regards to noise pollution by the playing of loud music.
The first group of businesses invited were the owners of Francis Bar and Willy's Snack and the second group was Son Latino, Abu G, Kenny's Corner and La China Snack.
The reason for the meeting is that Section Economic Control has embarked on a new strategy to support its enforcement efforts against community noise pollution by the playing of loud music by entertainment related business operating in those communities.
Firstly, Economic Controllers go out and conduct field research to identify hot spots where this practice of playing loud music is occurring within individual districts.
Based on the field research conducted by Economic Controllers business owners are then invited to meet with the department and the specific field observations, violations as well as recommendations for each business on how to correct them are presented and discussed in an open and transparent manner in a group setting.
The goal is to take a collaborative solutions based approach to address the problem of noise pollution by loud music playing by entertainment businesses rather than going the traditional route of immediate sanctions.
All owners appreciated the approach of the department and expressed a willingness to work along with the department to achieve the goal of reducing the volume of music being projected into the community in which they conduct business.
The Inspectorate of TEATT will continue executing this collaboration based approach throughout all districts and communities on the island to combat noise pollution via the playing out loud music from businesses.
The department also wishes to inform and advise all business owners to pay keen attention to the conditions in their permit which outlines if they are allowed to play music, have live music or provide entertainment or not at their establishment as well as the maximum permissible decibel level.
If you fail to adhere to those conditions, you are acting without permission and sanctions can be taken against you which the department wishes to avoid if necessary.
Being a good neighbor as a business means abiding by all the conditions in your permit and applicable laws.