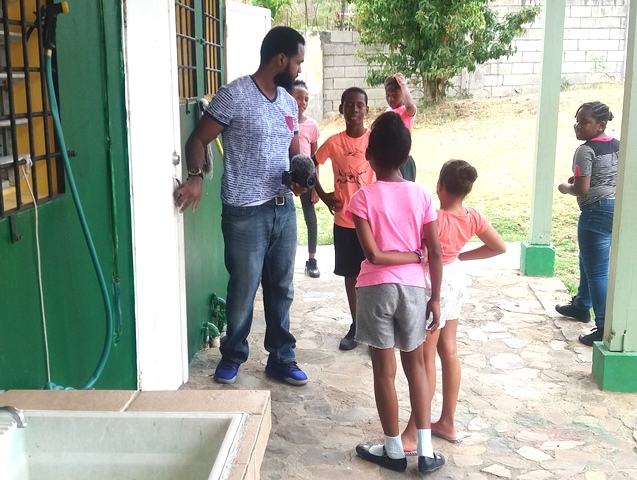 Anuncio sorpresa del ganador que tendrá lugar el martes 10 de abril de 2018 en Winning School
Great Bay, St. Maarten. – El primer estreno del Festival de Cine de los Derechos del Niño de UNICEF, celebrado en St. Maarten fue un éxito. Cerca de 250 personas, incluidos parlamentarios, funcionarios del gobierno, maestros, estudiantes y figuras públicas, asistieron al estreno inaugural celebrado el pasado viernes 6 de abril de 2018 en el Centro Comunitario Belair. Las películas proyectadas fueron del Methodist Agogic Center, Hillside Christian School, Oranje School y Youth Council. Algunos de los derechos de los niños que se destacaron en las películas fueron libertad de religión, libertad de expresión, derecho a la privacidad, derecho a un buen desarrollo, derecho a no drogas, derecho a la educación y derecho a jugar, descansar y relajarse. Telem Breakthrough Star, Tyler Percival entretuvo a la audiencia tocando soca éxitos como "Hola" por Kes y "Who Yuh Fah por el propio Kenyo Baly de St. Maarten en su steelpan.
La estrella internacional que ha aparecido en canales internacionales como ABC, NBC y CNN, Kenyo Baly fue uno de los tres estimados juzgados por la noche. El jurado de tres integrantes incluyó a la Sra. Clara Reyes, ícono cultural que posee una Maestría en Bellas Artes (MFA) en Danza y Coreografía con especialización en danza en educación y ahora es la recién nombrada Jefa del Departamento de Cultura. El tercer juez de la noche es Peter Sagnia, cineasta y productor de música, y ha estado involucrado en el teatro por más de 20 años. Él es originario de Londres, Inglaterra y ha pasado una cantidad considerable de tiempo en los Estados Unidos. Es el director y productor de Consumed, una película basada en St. Maarten que se ha visto en festivales de cine de todo el mundo.
Se proyectaron cinco películas en el estreno, pero solo se proyectaron cuatro de ellas. Ninguna fundación de Kidding with Our Kids ha sido parte de todo el proceso y, debido a un asunto técnico, que no fue culpa de la escuela, no fue posible completar la película para el estreno. Los organizadores decidieron que, en un espíritu de imparcialidad, especialmente para los niños que han trabajado duro, la Fundación No Kidding with Our Kids aún puede participar, aunque su película se mostrará después del estreno.
Por lo tanto, el lunes 9 de abril de 2018 en el Lion's Club a las 6:30 PM, se realizará la proyección de "Privacy is must" con los mismos jueces. Los puntajes del estreno se sellaron en sobres y se entregaron al Ministro de Educación, Cultura, Juventud y Deportes, los Dres. Jorien Wuite para su seguridad y para garantizar que no haya irregularidades con los puntajes. El lunes por la noche, estos puntajes se contarán y el ganador se anunciará el martes. Una delegación irá a la escuela ganadora con el premio.
Los estudiantes de la escuela ganadora volarán a Curazao el viernes 13 de abril para representar a St. Maarten en la competencia regional y en el UNICEF Children's Rights Festival Caribbean. Estos estudiantes formarán parte de la delegación de St. Maarten que incluirá al entrenador de la película y al coordinador del proyecto. La delegación regresará a St. Maarten el 15 de abril.
Se alienta a los padres a que se aseguren de que los estudiantes que hayan participado tengan pasaportes válidos y firmen formularios de consentimiento para garantizar que su hijo, en el caso de que formen parte de la delegación de St. Maarten, pueda viajar.
Los representantes del Departamento de la Juventud y UNICEF han trabajado incansablemente durante los últimos dos meses para facilitar este proceso y concienciar sobre los derechos del niño tanto con los maestros como con los niños. Esto fue posible gracias a Netherlands Recovery Fund St. Maarten. El estreno fue el paso final para St. Maarten para mostrar estos derechos y lo más importante para mostrar el talento innegable dentro de la juventud.
Los organizadores desean agradecer al Departamento de la Juventud, UNICEF, directores de escuela, maestros, padres, seguidores, proveedores de servicios y especialmente a los niños para que la primera presentación sea un éxito.