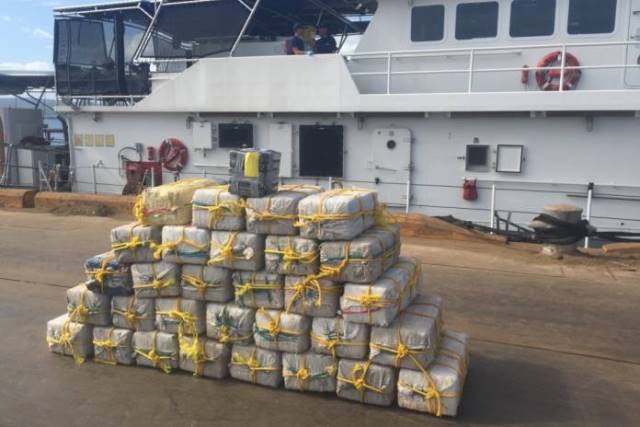 SAN JUAN, Puerto Rico –The US Coast Guard announced on Friday the apprehension of three suspected drug smugglers and seizure of 900 kilograms of cocaine following a recent at-sea interdiction in the Caribbean Sea south of Puerto Rico.
Three men, Dominican, Colombian and Venezuelan nationals, apprehended in this case are now in the custody of federal law enforcement authorities in Puerto Rico, where they are facing potential prosecution.
This interdiction was the result of ongoing, multi-agency federal law enforcement efforts in support of Operation Unified Resolve, Operation Caribbean Guard and the Caribbean Corridor Strike Force (CCSF).
During the night of March 1, the crew of a patrolling CBP maritime patrol aircraft from the Caribbean Air and Marine Branch (CAMB) detected a suspicious 30-foot go-fast vessel with visible packages on deck transiting without navigational lights, approximately 50 nautical miles south of Ponce, Puerto Rico.
Coast Guard watchstanders in Sector San Juan diverted the Coast Guard Cutter Donald Horsley to intercept the suspect vessel and CAMB positioned marine units that were also ready to respond. The Donald Horsley arrived on scene and interdicted the go-fast, detained the suspected smugglers and seized multiple bales of contraband, which tested positive for cocaine.
The contraband and detainees were transported to Puerto Rico and turned over to the Federal Bureau of Investigations for further investigation, processing and final disposition.
"The resolve and excellent coordination of our federal and local law enforcement partners operating as part of the Caribbean Border Interagency Group and the Caribbean Corridor Strike Force strengthens the security of the nation's Caribbean border from these drug laden vessels and brings those responsible to justice," said Capt. Eric P. King, Sector San Juan commander.