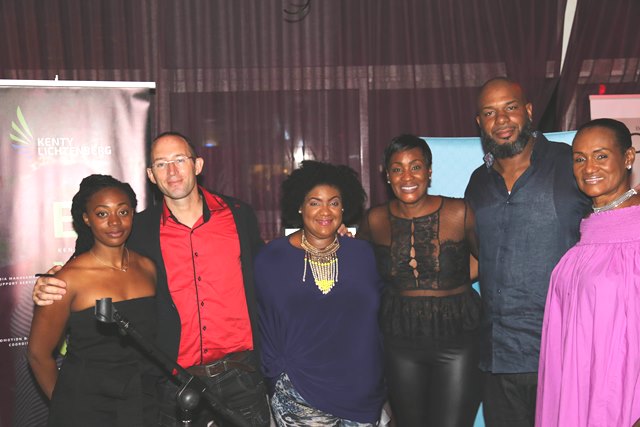 Simpson Bay – As the local businesses in various industries continue to open their doors, the realization that we have to concentrate on our local economy our reality. After the passing of Irma, many are the challenges that the small business community are faced with on a daily basis.
However in the hope of supporting each other and keeping our economy alive, it is important to understand that partnerships are needed in order to generate revenues and continue offering our local consumers and visitors the best on our island.
On February 10th, Jeremy Huot, a Zouk / Afro Caribbean Simger joined a team of professionals and launched his 2nd Album: Carib Being. Although his roots are in Paris and the UK, Jeremy has made St.Maarten his home and has been able to provide live entertainment for various years within the hospitality industry.
Joining forces with local businesses, Jeremy was able to successfully launch at Rhythm & Booze. Under the coordination and marketing support of Kenty Lichtenberg – Be Your Own Brand, NicaNoir Kreative and T's Closet we were able to put a production together for the evening and attract a crowd that would enjoy live music, fashion show and ambience that would set the tone for the rest of your weekend.
The attendees provided great feedback and applauded the efforts that were made to ensure that this event was smooth and successful, proving once more that partnership in today's economy is an essential tool that will determine the longevity and consistent growth of your business.
Jeremy would like to thank everyone that made this event possible, for without your help and dedication it would not have been this successful reality.
Please stay connected with Jeremy Huot via the following for any queries or booking:
E-mail: jeremiehuot971@gmail.com
Cellular Number: +590690548159
Facebook page: https://www.facebook.com/jeremyzouk/
iTunes: https://itunes.apple.com/fr/album/carib-being/1317810326
Youtube Subscribe: https://www.youtube.com/user/jimsxm1