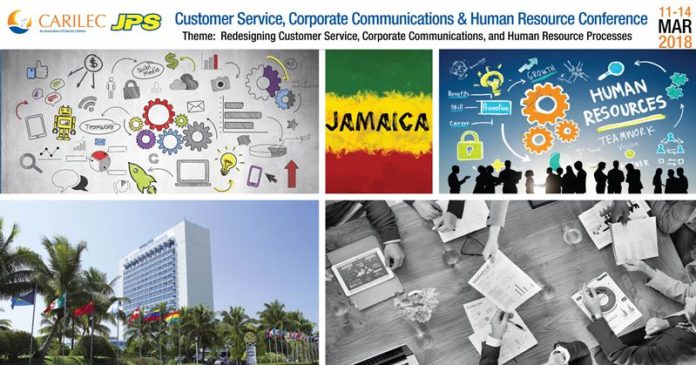 CASTRIES, Santa Lucía, – Caribbean Electric Utility Services Corporation (CARILEC) será coanimadora de la Conferencia de CARILEC Corporate Communications, Human Resource and Customer Service de 2018 bajo el tema: Rediseño de recursos humanos, comunicaciones corporativas y procesos de servicio al cliente, 11- 14 de marzo en Jamaica. La conferencia es organizada conjuntamente por Jamaica Public Service Company Limited (JPSCO). El evento anual es una experiencia multidisciplinaria para profesionales de servicios públicos, consultores, expertos en medios y profesionales de negocios en los campos de comunicaciones corporativas, recursos humanos y servicio al cliente que buscan una educación integral acompañada de sesiones de aprendizaje innovadoras, aprendizaje entre iguales y redes excepcionales y oportunidades sociales.
Creado por profesionales que se especializan en la industria de la electricidad y la energía, la Conferencia de CARILEC Corporate Communications, Human Resource and Customer Service Conference se ha diseñado como un centro de contenido enriquecido. Ofrece a los delegados una experiencia única comprometida con su comprensión de las tendencias, innovaciones y leyes que afectan a la industria; fomentando su desarrollo profesional y permitiéndoles aportar nuevas ideas y enfoques a sus respectivas organizaciones.
La Conferencia de este año hace especial hincapié en la gestión de desastres, la continuidad del negocio y la recuperación de desastres ya que la temporada de huracanes del Atlántico 2017 fue una de las temporadas más activas en la historia reciente y muchas empresas y ciudadanos afectados todavía se están recuperando. La gestión de desastres es vital para garantizar la seguridad y la sostenibilidad durante los desastres y no se puede separar de la gestión de los recursos humanos, ya que desempeña un papel integral en la planificación y la respuesta a los desastres.
Además, algunos de los mayores desafíos operativos que enfrenta una empresa pueden ocurrir después de un desastre. Cuando esto sucede, los equipos de relaciones públicas y servicio al cliente ayudan a minimizar el impacto de las interrupciones en los clientes y empleados y, por lo tanto, desempeñan un papel clave para garantizar la continuidad del negocio y la recuperación ante desastres.
La Conferencia contará con Joyce E. Brooks como oradora principal. Brooks es autor, facilitador, orador motivacional e ingeniero. Joyce es la propietaria y administradora de Brooks Consulting, LLC, cuya misión es ayudar a las empresas y organizaciones a obtener una ventaja competitiva al enfocarse en el desarrollo de liderazgo, la estrategia organizacional y el bienestar individual. También es autora de tres libros titulados "Sobrecarga autoinfligida", "Menos estrés y vivir más" y "¡No ha terminado!". A través de sus obras, anima a las personas a vivir una vida más equilibrada, libre de estrés y satisfactoria. .
Después de esta Conferencia, los gerentes de relaciones públicas, recursos humanos y servicio al cliente que tienen la tarea de ayudar en la gestión y recuperación de desastres estarán mejor preparados para cumplir con estas responsabilidades.
También en colaboración con JPSCO, CARILEC tiene previsto organizar su Seminario 2018 de Salud y Seguridad Ocupacional y Gestión de Desastres al mismo tiempo que la Conferencia. El Seminario está patrocinado por Emera Caribbean Incorporated, y se llevará a cabo bajo el lema: "Seguridad mediante el Diseño con Desastre en la Mente".
Para registrarse u obtener más información sobre la Conferencia de CARILEC 2018 Comunicación Corporativa, Recursos Humanos y Servicio al Cliente envíenos un correo electrónico a conferences@carilec.org, explore nuestro sitio web www.carilec.org, síganos en twitter https://twitter.com/carilecpower o como nuestra página de Facebook en https://www.facebook.com/carilecpower.