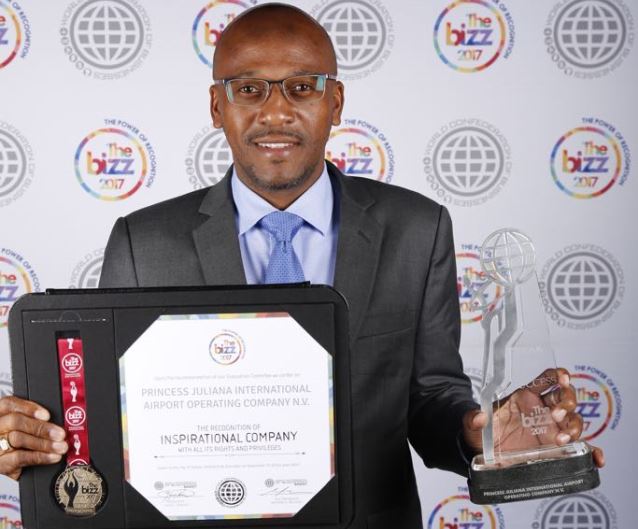 Simpson Bay, St. Maarten – The Princess Juliana International Airport-SXM recently won the BIZZ AMEA award for 2017. The Board of Directors of the World Confederation of Businesses (WORLDCOB) announced the award at a gala ceremony held at the Burj Al Arab Hotel in Dubai, UAE. The BIZZ AMEA is considered the most important business award in the world. It is presented by WORLDCOB to the most outstanding companies and business people in each country. The award was introduced in essence, to recognize business excellence and is meant for small, medium and large enterprises.
"I am humbled by yet another accolade received by PJIAE, declared Michel Hyman, COO and acting CEO of Princess Juliana International Airport Operating Company, PJIAE. "I think the staff and stakeholders at the PJIAE is also very proud to receive this recognition and we look forward to receiving many more, following our rebuilding process in the aftermath of Hurricanes Irma and Maria"
The Princess Juliana International Airport had also received the BIZZ 2016 award in Washington D.C., among several other previous awards of excellence, including the Best Caribbean Airport for 2016 by the Caribbean Journal.
Each year, WORLDCOB organizes The BIZZ business awards ceremony, which brings together the leading companies from different countries to celebrate this recognition and offer a series of benefits to the winners, who become ELITE MEMBERS, taking part in activities that will help them to adopt new commercial relationships. The BIZZ recognized PJIAE, as a company continuously seeking to guarantee quality for constant development at its own scale.
"We will continue to work diligently to upgrade our facilities and services and make SXM Airport the leader in Caribbean aviation in accordance with our Mission Statement and the pride of St. Maarten," added Hyman.