VIDEO

PHILIPSBURG, Sint Maarten — On Sunday January 28th at approximately 11.05 a.m. a young man with initials R.R.S. (17) was arrested by the police bike patrol in the vicinity of Hard Rock café on the Board Walk. While the officers were preparing to get on their bike to continue their patrol the young man in question verbally threatened one of the officers using profanity by telling him what he will do to him when he is not in his uniform for what they had done to his mother.
The officers then recognized this young man as the son of the lady that was also arrested on the Board Walk while resisting her arrested for an offence she had committed.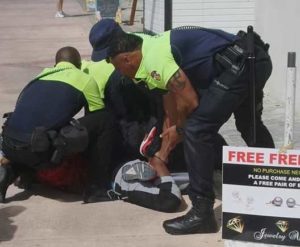 The officers went on to arrest the young man for the threat he made towards them. While placing the suspect in handcuffs he started resisting heavily causing the officers to use the necessary force to break his resistance.
After the suspect was placed in handcuffs he continued to verbally threaten the officers what he is going to do them for what they did to his mother. The suspect was taken to the Philipsburg Police Station where he was lead in front of the acting prosecutor who will decide how this case will be handled.
The Police Department is taking this opportunity to state that the police force is here to serve and protect the entire community of Sint Maarten and all its visitors. We carry out our duty to the best of our ability to guaranty safety and security for everyone and will continue to do so.
At the same time the police are tasked with maintaining law and order and will not accept or allow anyone under any circumstance to threaten any of its officers in any form, or to resist their arrest without facing the consequences of their actions.
The Mother been arrested

ANOTHER VIDEO POPS UP ON FACEBOOK OF POLICE ARRESTING A MAN DURING DECEMBER 2017. No official information was released by the police force.