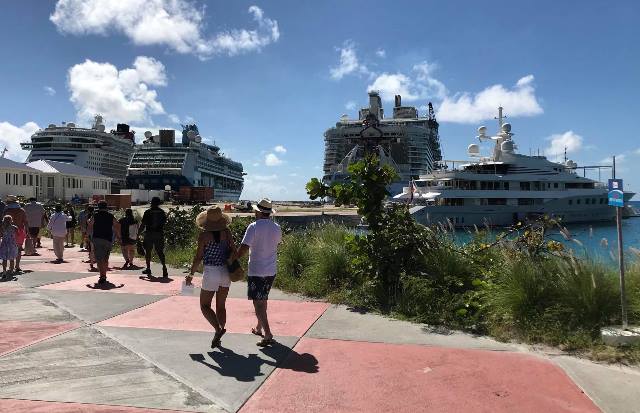 PORT ST. MAARTEN – Representatives from Port St. Maarten will leave the island on Friday to attend the Florida-Caribbean Cruise Association (FCCA) Platinum Associate Membership Advisory Council Cruise Summit (PAMAC) that will take place from January 13-18 on board Royal Caribbean International Independence of the Seas cruise ship.
Port St. Maarten will be represented by Chairman of the Supervisory Board of Directors Fernando William, Alexander Gumbs, Business Development Officer, and Lela Simmonds, from the Cruise Business Unit.  Gumbs will be participating in the destinations presentations related to recovery interventions at the Dr. A.C. Wathey Cruise & Cargo Facility along with the cruise passenger island experience to date.
More than 100 attendees, including FCCA Platinum Members-key cruise tourism stakeholders-and over 30 high-ranking executives from the FCCA's 19 Member Lines, will be attending the FCCA PAMAC Cruise Summit.
Port St. Maarten's delegation looks forward to discussing long term economic stability in a post-Irma/Maria era and the destination being able to deliver every year a premium product for cruise passengers and crew.
"The hurricanes has caused us to push the reset button in terms of certain tour offerings, alternating tour routes and beach experiences amongst others.  Our delegation will share the great strides the destination has made thus far to facilitate the demands of the cruise executives and end consumers: the passengers and crew members," Port St. Maarten Management said on Thursday.
Port Management is well aware of regional competition and will continue to rebuild which can only be achieved by being innovative and reinventing the cruise sector in collaboration with all stakeholders.
Primary points of discussion will be getting feedback from the last cruise ship calls to the destination; destination improvements/renewal; and itinerary planning and forecasting for the 2018-2019 cruise season.
The five-day event will feature a series of meetings, workshops and networking events connecting with senior cruise industry leaders to discuss industry trends and standards and develop relationships and mutual benefits for the cruise lines and members' companies and destinations.
The platinum members will also be touring a number of places during their cruise calls to Costa Maya, and Cozumel, Mexico.
The PAMAC event is one of many that the FCCA coordinates for its Platinum Members and Member Lines to stay at the forefront of information about both the industry and destinations while finding ways to maximize the benefits for all.
Port St. Maarten in January 2017 received the Distinguished Strategic Partner Marketing Award 2016 from the FCCA and Cruise Line Executives at a similar summit.
The FCCA is a not-for-profit trade organization composed of 19 Member Lines operating over 100 vessels in Floridian, Caribbean and Latin American waters. Created in 1972, the FCCA's mandate is to provide a forum for discussion on tourism development, ports, safety, security, and other cruise industry issue and to develop bilateral relationships with destinations' private and public sectors.
By fostering an understanding of the cruise industry and its operating practices, the FCCA works with governments, ports and private sector representatives to maximize cruise passenger, crew and cruise line spending, as well as enhance the destination experience and increase the amount of cruise passengers returning as stay-over visitors.