VIDEO: Samuel on his way to Dominican Republic.
CAY HILL, Sint Maarten – Well-known broadcaster Samuel Allen Jr (48) was flown by air-ambulance to the Dominican Republic this afternoon for medical treatment after suffering an intense stroke on Thursday.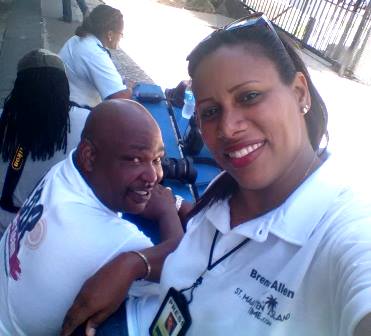 Allen of the Voice of St. Maarten Radio Network PJD2 has brought the news daily along with fellow broadcaster Steven Cyrillien. He is also known for his pioneering online news website www.sxmislandtime.com, which he manages along with wife Brenda Allen.
The newsman suffered an the stroke at his home on Thursday morning. He was rushed to St. Maarten Medical Center  (SMMC).
Preparations were made to fly him to the Dominican Republic today for further treatment. He has been unconscious since the attack.
Many of Allen's family members, friends and press colleagues gathered at the hospital since Wednesday to give support to his wife Brenda and to await news of his condition.
They followed his gurney out to the ambulance when it was time for him to be taken to the airport.
His wife was not allowed to travel with him to the Dominican Republic, because there was no space in the air-ambulance. She will leave tomorrow, Saturday, weather permitting.
Her being unable to accompany him means Allen does not have his next to kin close by for medical decisions.
Allen's case strongly underscores the medical dilemma faced by many patients who are flown overseas for treatment without family support.
This case also highlights the urgent need for St. Maarten to have a new hospital with the capacity to treat all common conditions without the need to fly patients elsewhere.
721news would like to thank Mr Glen Carty, Prime Minister William Marlin, Minister of Health Mr Emile Lee, Dr. Winter, Mr Ramsis Dennaoui from SZV and all SZV, SMMC ER/ICU staff. Thank you for you all support and involvement to make sure all paperwork could have been proses fast enough to get him out for advance medical treatment in Dom. Rep.
We from the media would like to ask the public to join us in a Prayer for the full recovery of our colleague Samuel Allen.