Two men arrested by police
On Wednesday August 17th two men were arrested by the Multi Disciplinary Team on the Union road in the vicinity of Burger King for the possession of  five false U.S. 100,- dollar bills. The suspects were arrested during a routine control and after they were asked to identify themselves and to handover the documents for the vehicle.
While checking the documents for the vehicle the five 100,-  dollar bills were found and confiscated for further investigation. The male suspects with initials R.A.C. (18) and R.E.G. (19) were brought to the Philipsburg Police Station and held in custody for further investigation.
---
Police meet with organizers of event.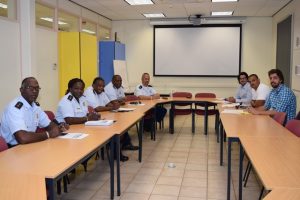 On Friday August 19th representatives of the police department met with representatives of the organizing committee of the "Presidente" Poker Run 2016 to discuss the safety issues surrounding this event. The "Presidente" Poker Run 20 16 is a three days event consisting of Poker Tournaments, live entertainment and music and a boat race.
The events start on Friday August 26th and end on Sunday August 28th 2016. The entire community is asked to pay attention during the time of the events and to give all cooperation possible to make this event a successful one. (See pic attached. On right the organizers of the event Valentin Roesch, Jesse Peterson and Ard Mulder- One the left Chief Inspector Benjamin Gout and inspectors E. Josepha, Q. Rogers, Sh. Crispulo and S. Carty.)
---
Police meet contact person of each political party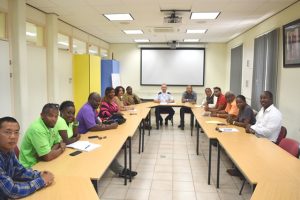 On Friday August 19th Chief Inspectors B. Gout and R. Bloeiman met with a representative of each political party contesting in the 2016 election. The meeting was to carry out discussions, exchange information regarding the election and to appoint a "contact person" for each political party.
This contact person will be the one that police will be contacting in case of any irregularities going on for which that particular party is responsible for during the election campaign and on Election day.