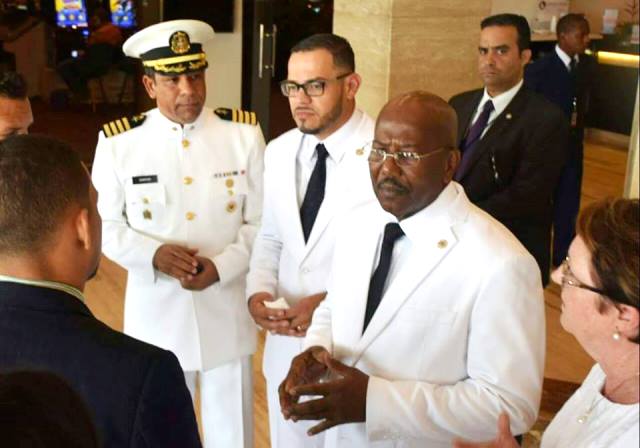 DOMINICAN REPUBLIC – Prime Minister (PM) William Marlin returned home from the Dominican Republic on Wednesday, August 17, having attended the inauguration of Danilo Medina as the President of that country.
The two-day event was attended by an array of international guests including royals, cardinals, Presidents, Prime Ministers, Ministers, and ambassadors, as well as representatives of international organizations.
Marlin, in his capacity as Prime Minister of St. Maarten headed the delegation of the Kingdom of the Netherlands, which included the Prime Minister of Curaçao Ben Whiteman; the Minister of Health, Social Welfare, and Labour of Aruba Paul Croes; Ambassador of the Kingdom of the Netherlands to the Dominican Republic Marijke van Druinen-Littel, and representatives of the Department of Foreign Relations of both St. Maarten, represented by Patrice Gumbs Jr, and Aruba, represented by Edwin Abath.
The Prime Minister underscored the strong ties between both St. Maarten and the Dominican Republic and the need to give content to these historical links. "The Dominican Republic is by far one of our most important regional partners. The historical and cultural links between the Kingdom countries in the Caribbean and more significantly the strong ties between St. Maarten and the Dominican Republic made the decision to attend the inauguration most obvious," he noted.
The Prime Minister also stated in his address upon arrival, that he is here not only representing the Kingdom of the Netherlands, but the large number of Dominican people who call St. Maarten their home.
Speaking on behalf of the Department of Foreign Relations Gumbs Jr. stressed that one of the key reasons for attending the inauguration was to "reiterate our willingness to engage with our regional partners based on these historical links as underscored by the Prime Minister."
Gumbs added that it was on the basis of this conviction and in discussions started three years ago in a bilateral between the then Prime Minister of St. Maarten Sarah Wescot-Williams and President Medina, that it was decided upon to enter into a Memorandum of Understanding (MOU) with the Dominican Republic.
The areas covered in the MOU include, among others, education, economic cooperation, innovation and technology, disaster management, tourism, migration, and healthcare. The MOU was to be signed during the inauguration of the President, but schedules having not permitted, discussions for an alternative date have commenced.
Prime Minister Marlin promised to extend an invitation to President Medina to visit St. Maarten with the aim of putting into motion the mechanisms that will highlight the spirit within which the MOU was derived.