DUTCH QUARTER – A young man living in the Dutch Quarter emergency homes has alleged police brutality in an incident that led to his jaw being broken in two places.
Mackeson "Mac" Jean-Charles told 721news that he was walking on the road in the community when he saw police approaching. At the time, he said he was "making a lil' noise" in the neighborhood, and probably gave the lawmen the impression that he was talking to them.
He said when he noticed police approaching he went into his house to get his ID after realizing his ID was not in his possession. "I see them coming down, so I run inside for the ID because I thought they coming to ask me for my ID. So as soon as they come I show them my ID: 'look my ID, look my ID,'" Jean-Charles said.
However, according to him, the policemen responded angrily. "He says the way I approach him, I approached them too rough. My hands were up in the air and he (push) me off," he continued. Jean-Charles alleged he was pushed to the ground, and beaten by three policemen in his yard. "They pull their gun, everything on me," he said.
Jean-Charles noted that he spent the night in police lock-up, and only saw a detective the next day. However, because he was experiencing constant, excruciating pain in his face, he was sent to the St. Maarten Medical Center (SMMC). There it was discovered that his jaw had been broken from the police beating.
"I was in so much pain and ask them to make me go to the hospital," Jean-Charles explained. "I went the hospital, do the x-ray and stuff, and my jawbone broke in two places."
He suggested that maybe police took their anger out on him, because of the rumored rowdiness of the guys in his neighborhood. According to an eyewitness, a female police officer "scream out that they are the law and they run things."
Jean-Charles said he was discharged from the hospital, and sent back to the police station on Thursday night, July 14. Up to now, he doesn't know what he was charged with. He was also asked to sign a document indicating that he had the right to remain silent when he was arrested. However, he refused to sign.
On Friday, July 15, he was released in the afternoon, but never got the chance to file an official complaint against the Police for use of excessive force. He was not properly instructed on what to do after they discovered his jaw had been broken. "Just like that they let him go." He is currently home with his broken jaw, and no redress from the authorities. During his incarceration he never saw a lawyer, and no one instructed him on who to go to after he was released.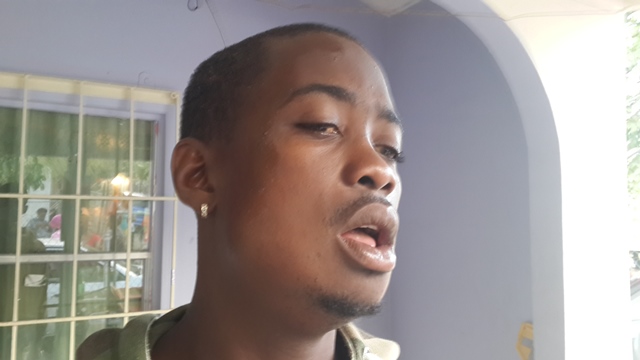 Jean-Charles' right as a detainee to see a lawyer on Thursday night, and during his interrogation on Friday morning was violated. His treatment at SMMC on Friday morning also did not follow proper procedure.
When 721news asked him if he would be able to identify the policemen who ill-treated him, he said yes. However, he would first seek medical attention and make sure his jaw is properly healed, then he will see what the outcome of his complaint will be.
A bystander told 721news that filing a complaint at the police station against police is not fair as Internal Affairs "will brainwash you or write that report in favor of the accused police officer."
Justice Minister Edson Kirindongo should implement a similar system to that in Curaçao, where that Ministry of Justice has an independent body/committee that take complaints from victims of police brutality, or any friction between police and civilian.
It is a fact that throughout the years, many cases of police brutality were not appropriately handled or "shoved under the carpet."