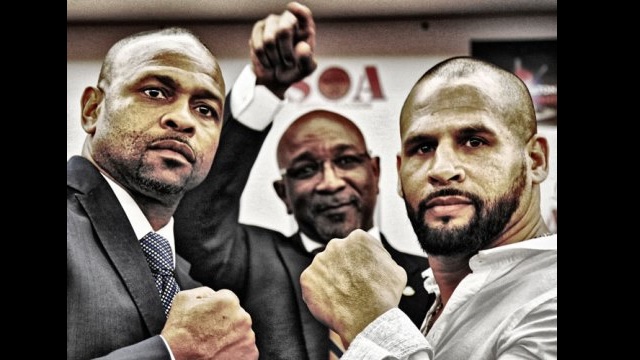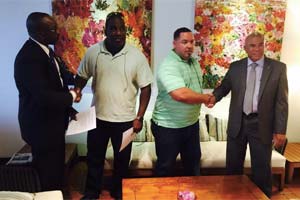 By Kurt Wolfheimer
Photo: Bronson Mosley/Day Break Studios, Inc.
The contracts have been signed and on Monday night at the spacious Atlantis Ballroom in Miami's Newport Beachside Hotel, boxing legend and former four division world champion Roy Jones Jr (69-8, 44 KOs) of Pensacola, Florida, and former world title challenger Danny Santiago (33-7-1, 19 KOs) of Ocala, Florida, finally met face to face to discuss their fight scheduled for August 29 in Philipsburg, St Maarten. Promoter Archie Keaton of AKE promotions spoke candidly about the negotiations the brought together the card titled "From Miami 2 St. Maarten," along with presentations given to the dignitaries from both Miami and the paradise island in the Caribbean.
Archie Keaton (Promoter AKE Promotions): "About ninety days ago, myself and Isaac Vasquez, the President of our company ventured onto a small island, a piece of paradise in the Caribbean called St. Maarten. We began deliberations to bring international championship boxing to the country.
"I did my best to get was the most proper fit for such a big event. I looked up Roy Jones Jr's stats and said 'Wow! This is the only fighter to hold seven different titles at the same time. He won titles in seven different divisions.' We knew Danny Santiago also wanted this and I said this would be the perfect fit."
Danny Santiago: "Boxing has changed my life. I have travelled all over the world. I'm not ashamed of anything I have ever done in the game. I have always given 100%. Sometimes you come up short and sometimes you come up victorious, but I give it everything I have and on August 29th Roy Jones Jr is going to get best Danny Santiago has to offer.
"We were supposed to fight a few years ago. I was very heartbroken that it didn't happen, but I know boxing is a business and that is just the way things are. In the light heavyweight division, where I fought ninety percent of my fights, Roy was the best. Some people think I don't have a chance, but I'm a fighter and I always believe I have a chance. I want to fight the best and take on the people that everybody says I can't beat. That is where the true accomplishment is. I have wanted this fight for fifteen years. I was about to board a plane a plane for Pensacola, Florida when my manager called me and said the first fight was cancelled. I am a man of God, as is Roy and I believe everything happens in God's time. Now five years later, I have the chance to close the biggest chapter in my career. I even have the opportunity to do it on the paradise island of Sint Maarten.
"Archie Keaton of AKE promotions has been a great friend of mind and has promoted some of my amateur shows. He has always been a man of his word. A man of great character and I am honored and privileged to be associated him as well with all the parties that have put together this great event.'
"I love Roy Jones, but on August 29th,they say it happens on God's time, but I believe it will be my time. They say dreams don't come true, while today my dreams did come true!"
Mike McGee (Roy Jones Jr's. trainer: "I don't know who told Danny Santiago he doesn't belong in the ring with Roy, but he is a world class fighter or we wouldn't be taking this fight."
"We know that whoever we put in front of Roy, on that night we believe with his talents, he will come out victorious."
"We know Danny Santiago is going to be at his best on August 29th. If he didn't think he was going to win, he wouldn't have signed the contract."
"Danny, if you beat Roy, and that is a big if, you will be the first man to defeat him that has never held a world title. Every loss that Roy has on his record is to a world champion and I put you in that caliber of fighter. We appreciate the opportunity to fight you on August 29th."
Roy Jones Jr: "I was the first person to ever turn pro at middleweight and win the heavyweight title. I love this game and don't like to go down the same beaten path. When I heard that I could fight in St. Maarten, I said 'Yes!' When they said I would fight Danny Santiago I said 'Yes!'
"I enjoy fighting and using my talents. It is about the fans though. I want them to enjoy watching me fight, so I make it exciting in the ring for the fans.
"I have Danny Santiago facing me and he is a very formidable fighter. If you want to be the best, you have to beat the best and for a very long time I believe that fighter is Roy Jones Jr. I know he will bring his best, but I will come out victorious."