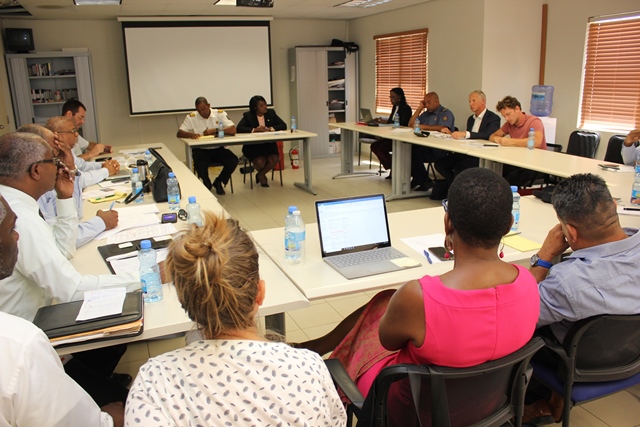 PHILIPSBURG – The Emergency Operation Center (EOC) met for its second meeting this year on Monday May 14th at the Fire and Ambulance Department in Cay Hill. The EOC meeting was chaired by the Prime Minister, who is responsible for disaster management as outlined in the current structure. The EOC consists of 10 Emergency Support Function Groups (ESF) who presented their internal plans, preparations and concerns thus far for the upcoming Hurricane Season 2018.
A further working out of these plans will continue within short with the execution of the "Taking Charge" Disaster Preparedness Conference scheduled for next week May 24th & 25th at the Belair Community Center. The goal of the Disaster Preparedness Conference is to bring together internal and external agencies to have open discussions and presentations that will ultimately lead to a National Disaster Operation Plan that will be available as a reference manual for the entire community.
Additionally, members of the Disaster Management Team and ESF-8 DCOMM are preparing a Communication Plan for the Hurricane Season, which will commence within short. The Prime Minister stated, "my objective for the communication plan is to give pertinent information before, during and post any Disaster that may occur on Sint Maarten."
I would like the public to also do their part and seek out the relevant information for their immediate family and community. This information should cover personal emergency family planning that takes into account the wellbeing of your children, household emergency supplies, all insurances, safeguarding important documents, cleanup of your property and access to communication sources.
Persons are also reminded to be vigilant and act responsibly by  avoiding the spread of information that does not originate from official government sources.