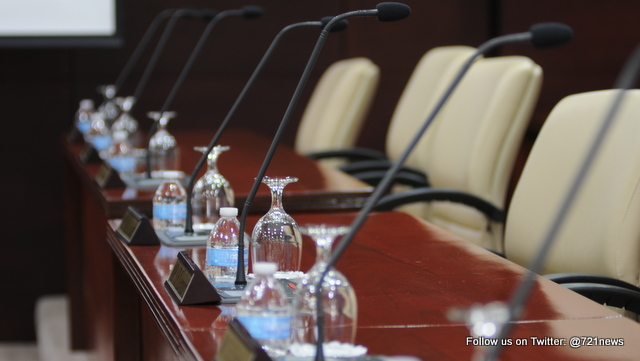 PHILIPSBURG, Sint Maarten — Member of Parliament Claude Peterson presented a motion to Parliament on Monday November 4th, 2019 that resolved that 'The legal agreement on the Airport Terminal Reconstruction Project with the World Bank, the European Investment Bank, Princess Juliana International Airport, the Noteholders of the 2012 Indenture and other relevant parties thereto should be signed immediately by the responsible caretaker Ministers in accordance with the terms of the National Decree authorizing the signing of these agreements'.
Majority of the Members of Parliament deemed this motion to be redundant as authorization for this was already granted in the country's Budget 2019, which was passed by Parliament merely 4 months ago.
Members of Parliament expressed their displeasure with what they considered a blatant attempt by MP Peterson to play politics with the Airport Terminal Reconstruction Project. They said that they cannot support the politically motivated motion geared more to slap at the former opposition, rather than to actually assist in the promotion of the reconstruction of the airport as they have been proclaiming in the media they are championing.
The current caretaker Government is fully authorized through Budget 2019, to execute loan agreements, through all National Decrees signed by His Excellency the Governor Eugene Holiday a day after the current caretaker government received a motion of no-confidence. Furthermore, continuity is secured within the current formation process. It is therefore redundant that a motion be presented on this matter.
Majority of the Members of Parliament stressed that no motion weighs stronger than a Budget Law or National Decrees. Moreover, they also expressed the motion lost its credibility when it sought to blame Members of Parliament for stagnating the process, while Government has been authorized all along to follow through with agreements that were made prior to the motion of no-confidence tabled by a majority in Parliament.
Most Members of Parliament of the current coalition of 9, have been fighting from the beginning to get funds so that the Airport reconstruction could commence and have no intentions to hamper the process now. For this reason,  some Members of Parliament requested that the MP remove or amend considerations that reeked of political innuendo and were divisive in nature. This request was however declined by MP Peterson and the motion was presented in its current state, which could not be accepted by a majority in Parliament.
The current coalition has been, and will remain committed to fight for the reconstruction of the airport. However, redundant and/ or  politically motivated motions, will not be supported by this current coalition. The caretaker Government is legally empowered to carry out National Decrees signed by His Excellency in the execution of ongoing works.