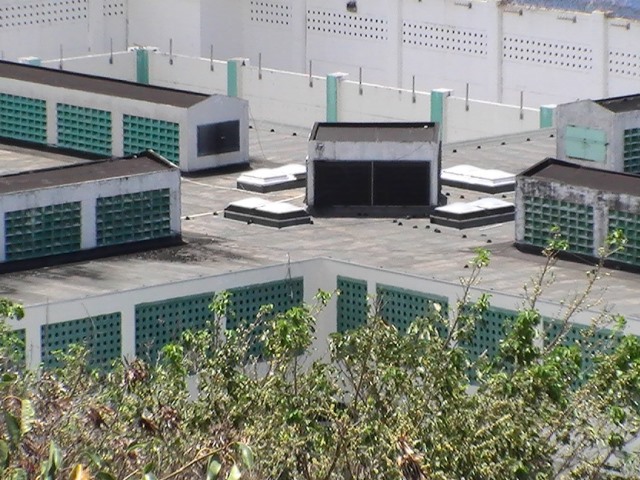 POINT BLANCHE, Sint Maarten – Two Pointe Blanche prison inmate came up with a plan on Saturday morning to kidnap two other prisoners from Dominica who are held for human trafficking. The kidnapers were identifying as D.W. and O.G. They are now facing of ill-treatment and kidnapping charges. They are currently held in the police cells in Philipsburg.
Our source told us that on Saturday morning, W. and G. manages to kidnap and hold the fellow two prisoners in a jail cell. They went as far to make a video of them and later made a video call to an unidentified person in Dominica. They demanded ransom money totalling of US $1,500. Non-compliance would be met with severe beating or death.
Other inmates try to alert prison guards, but unfortunately the routine patrol of the jail did not take place. Another alternative was to press a panic button where the prisoners can directly alert guards at the main office. This also fails as no one showed up in the two-and-half hours of the hostage situation.
The hostage situation came to an end only after the two kidnappers made the video call and release a video said to be of them beating the fellow two prisoners. The unidentified person in Dominica contacted the victims' lawyer Mr Hart. Is not clear to us if Mr Hart notify authorities. He declined to give any information to this news site citing client privacy.
Mr Hart, however, could not confirm or denied that his clients were beaten and held hostage at a jail cell in Pointe Blanche.
What 721news room understands is the lawyer immediately got in contact with police and prison authorities to notify them that two of the prisoners were being held hostage and their lives were in immediately danger.
A family member of another prisoner told 721news they are afraid of the prison management policy and for their family members who are in the prison.
Due to similar unsafe circumstances, an ex-inmate was awarded NAf 100,000 compensation by the Court for the injuries he sustained from a stabbing while in prison. Some ago, another inmate lost his life after he was shot dead in prison.
The new prison director is said to be forcing a lot of new rules that contradict or breaks the international human rights laws. The government of St Maarten needs to take this seriously and make sure all prisoners safety can be guarantee. The two prisoners, who were held hostage, could have been murdered and ended as another unsolved murder in Prison.